Get in touch
SIDING
Pro-X Doors
Western New York Siding Specialists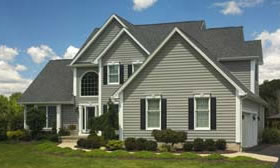 SIDING
Pro-X provides Buffalo and Western New York Siding Services. We offer a variety of siding materials including vinyl siding, wood siding, plastic siding, insulated siding, and metal siding. There are many reasons for choosing the different types of siding.
Vinyl Siding
PThere are several benefits to having Pro-X install vinyl siding on your home. Vinyl siding is long lasting and very durable. It is also inexpensive and easy to maintain. Vinyl comes in a variety of grains, thickness and colors making it a practical choice for many homeowners. Vinyl Siding never needs to be painted. In the long run, vinyl siding can be very cost effective. Vinyl siding is much less expensive than repainting and repairing wood on a home. The initial cost of vinyl siding will vary depending on the size of the home and the quality of the siding.
Wood Siding
The greatest advantage of wood manufactured siding is the wide range of choices you have as a homeowner when it comes to the exterior appearance of your home. There is no other siding material that offers you more options to choose from. From board and batten siding to channel siding there are many different types of wood siding options available. Pro-X installs Hardboard Lap Siding, Lapped Wood Siding, Ship Lap Siding, Split Log Siding, Tongue and Groove Siding as well the two styles mentioned before. With the many different types of wood siding available, it's easy to create a unique, attractive, exterior for your home.
Metal Siding
Aluminum Siding can increase the value of your home and much like vinyl siding it is long lasting, durable and easy to maintain. Installing metal siding on your home is a very important investment, and one that should be done with great care and research. There are many benefits to choosing Aluminum Siding including: durability, lower maintenance costs, improved insulation, and increased resale value of your home.
Insulated Siding
There are many forms of insulated siding. Many consider vinyl siding and metal siding to be forms of insulated siding on there own. Both options come in variations of thickness and quality as well as different levels of insulation.
Start the process now by requesting a free in-home estimate online.
Pro-X is an accredited Better Business Bureau company! Click the Better Business Bureau logo on the bottom of this page to verify our status!
Communities Services
We are proud to offer our services to the following surrounding areas: Akron, Amherst, Angola, Boston, Brant, Buffalo, Cambria, Cheektowaga, Clarence, Depew, E Aurora, Eden, Elma, Grand Island, Hamburg, Holland, Kenmore, Lancaster, Lewiston, Lockport, Middleport, Newfane, Newstead, Niagara Falls, North Collins, N Tonawanda, Orchard Park, Pendleton, Rochester, Snyder, Springville, Tonawanda, West Seneca, Wheatfield, Williamsville, Wilson and Youngstown!