Get in touch
Bathroom Remodeling
Pro-X Doors
Western New York Bathroom Remodeling Specialists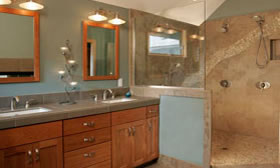 Custom Bathroom Remodeling
Weather you are looking for a beautiful master bathroom suite or just to add flare and color to you existing bathroom we are ready to take great care of you and your home improvement needs. We also make bathrooms more accessible for those with special needs.
Pro-X Remodeling can expand or renovate any existing bathroom. We are here to help you with you entire bathroom project. The process doesn't have to be so complicated. Our system for bathroom remodels can take you from idea through completion. We offer design services to help you focus your ideas, followed by assistance with materials, then scheduling and construction.
We install grab bars and railings, to access ramps, accessible bathrooms, walk-in bathtubs, additions.
We do compete bathroom repair and remodeling services for the disabled, from initial assessment through the completion of your project.
Our Services Include:

Custom Cabinetry
Counter Tops
Electrical Upgrades
Flooring
Lighting
Windows
Tile and Stone
Bathroom Remodel
Bathtub and Shower Replacement
Bathroom Furniture
Bathroom Decor
Fixtures and Faucets
Showers
Shower Doors
Whirlpools and Tubs
Fans
Plumbing
Dryrot and Water Damage Repair
Tub and Tile
Bathroom Vanities
Paint and Texture
Bathroom Accessories
Bathroom Moldings
Start the process now by requesting a free in-home estimate online.
Planning Your Bathroom Remodel Plan your bathroom remodel carefully, taking into consideration space availability and budget. A full remodel may be a problem when there is no spare bathroom in the home, therefore, arranging for temporary accommodation must be considered as you plan your budget. Have a clear view of what remodeling you really want. Carefully plan the extent of the project, so that you will save time, money and minimize unwanted surprises. Discuss cost estimates of cabinets, fixtures, framing, lumber, pipes and fittings, and finishing materials with your contractor. Carefully budget the expensive materials and as much as possible, try using existing materials. As your contractor, we will be sure that the plumbing, electrical, and drywall all works together.
Pro-X is an accredited Better Business Bureau company! Click the Better Business Bureau logo on the bottom of this page to verify our status!
Communities Services
We are proud to offer our services to the following surrounding areas: Akron, Amherst, Angola, Boston, Brant, Buffalo, Cambria, Cheektowaga, Clarence, Depew, E Aurora, Eden, Elma, Grand Island, Hamburg, Holland, Kenmore, Lancaster, Lewiston, Lockport, Middleport, Newfane, Newstead, Niagara Falls, North Collins, N Tonawanda, Orchard Park, Pendleton, Rochester, Snyder, Springville, Tonawanda, West Seneca, Wheatfield, Williamsville, Wilson and Youngstown!