Get in touch
Kitchen Remodeling
Pro-X Kitchen Remodeling
Western New York Kitchen Remodeling Specialists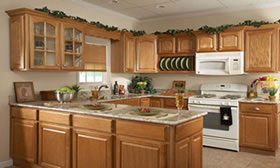 Kitchen remodeling and design is an art that Pro-X has mastered. Pro-X can design a beautiful kitchen that fits your day to day lifestyle. Whether you are remodeling your kitchen to provide you with more space for your gourmet dinner preparations or perhaps you're just looking for something more modern, light and spacious. From beautiful cabinetry to exquisite tile and granite, whatever your vision for your kitchen remodel, Pro-X can help make your dream a reality!
Planning Your Dream Kitchen or Bath
A new kitchen (followed by the bathroom) is often the 2nd most expensive purchase after the house itself and, in many cases, it is the most frequently used room in the home. Adding space to your home or improving existing living conditions can be a traumatic time. However, if you plan properly, it doesn't have to be. This is why the Planning Phase of a remodel is so important. It is the crucial step to the success of any remodeling adventure — it sets the stage for the entire project.
Step 1: Starting The Process

We will setup a FREE in-house consultation at your home!
We will spend as much time as needed at your home going over your ideas for your new project.
Step 2: The Design Process

During the in-house consultation we will do exact measurements and take pictures of your existing area.
We will go back to our offices to design your project, combining our ideas with your desires.
We will set up an appointment with you to present the design. If the design is approved, we will carefully check every aspect of your project, sign a detailed contract (at this time a deposit is required).
You will be provided with a set of plans and a list of the appliance sizes you will need in your new kitchen. Because your project is our priority, we can meet with you at the appliance stores to help select the ideal appliances.
Within a couple of days your designer and our in-house draftsman will visit your home to do the final measurements.
We will finalize the plans at this time, adding any changes you have.
The draftsman and your designer will finish putting the final touches on your project, and the office will call you with a start date and a completion date.
Step 3: The Installation Process

A week before the start date your personal project manager will come to your home, walk you through the process and make sure nothing was overlooked. He will provide you with his personal contact information so that you can reach him at anytime. Please inform him of any special instructions you have (portable toilets needed, garage space available, special access to the project, etc.)
Day one: demo crew arrives, first 2 to 3 hours is dedicated to floor protection, we will place plastic over any items needed and will remove all debris after demolition is complete.
Day two: the installers assigned to your project arrive to go through the project with you and your project manager, and then the fun begins. The following four days will be based around all electrical, plumbing and framing that needs to be done.
The next two to three weeks installation will be in progress, your designer will consistently check in on the status to make sure all plans are being followed and that you are happy with the process. If you have any concerns at any time during the process please notify your installer or project manager, we will take care of it right away.
By the end of the last week, once your project is competed we will do a walk through with you. The site will be cleaned, if needed we will bring in a cleaning service at no additional charge.
Project Completion!

Upon completion of your project the remainder of your balance will be due, and you can begin to enjoy your beautiful new kitchen!
Pro-X is an accredited Better Business Bureau company! Click the Better Business Bureau logo on the bottom of this page to verify our status!
Communities Services
We are proud to offer our services to the following surrounding areas: Akron, Amherst, Angola, Boston, Brant, Buffalo, Cambria, Cheektowaga, Clarence, Depew, E Aurora, Eden, Elma, Grand Island, Hamburg, Holland, Kenmore, Lancaster, Lewiston, Lockport, Middleport, Newfane, Newstead, Niagara Falls, North Collins, N Tonawanda, Orchard Park, Pendleton, Rochester, Snyder, Springville, Tonawanda, West Seneca, Wheatfield, Williamsville, Wilson and Youngstown!